| | |
| --- | --- |
| | |
| bowl | street |
The Street course is pretty much ruined right now. There has been no repairs done in the 2 years we've had it. (I'm surprised it has lasted that far) Primarily BMX'ers are usually in force in the street area, that's fine.. they can have it.
The Bowl belongs to the skateboarders. BMX pegs and sprockets cause damage to the pool coping and ruin the cement.
The bottom line is that we need the bowl to stay. It is a part of Ballard and would be a shame and a blow to the skateboarder community if it were to be bulldozed for no reason other then spite us.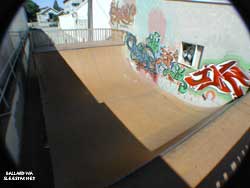 | | |
| --- | --- |
| | |
| Per Welinder Skull by Rain KYT | Mural by jaymeer DSM |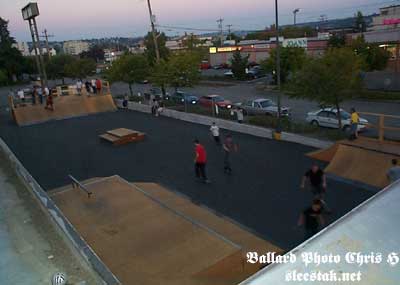 Ballard has a small street course and miniramp open now for you to ride! Located at the old Safeway on 22nd and 58th (2 blocks north of Bergen Place), you can ride some of the course from Sound and Fury and just kick it.
Directions:
22nd and 58th NW
From Seattle: Take Denny north until it turns into 15th follow over ballard bridge and take a left on to Market. At 22nd (a big 5 way intersection) hang a right and head up 2 blocks, you'll see it on your left.